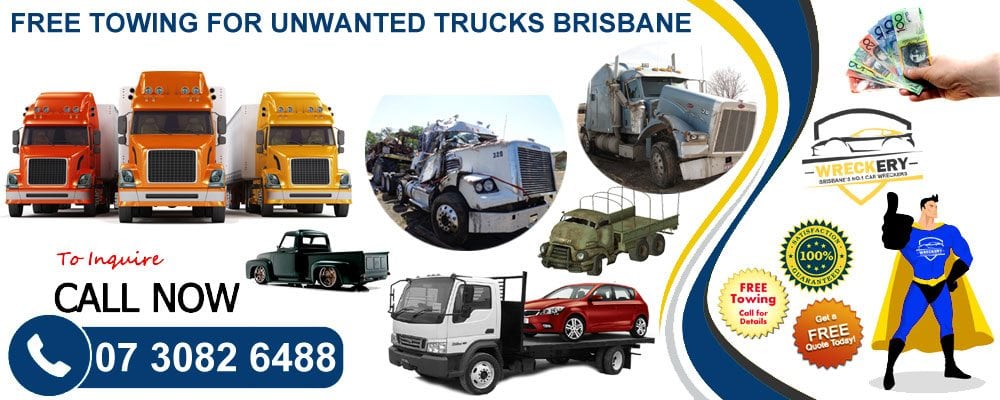 Good Amount of Cash For Trucks in Brisbane, QLD
Have an old truck and don't know what to do? Sell it to Wreckery and earn top cash paid for trucks by us. Whatever the condition of your truck, don't hesitate to call us and get the benefit of our on the spot quote on your vehicle.
During our vast experience we have ensured that whenever we have bought a car, our customer makes money from cash paid for old trucks, cash paid for trucks, cash paid for scrap trucks, top cash paid for junk trucks, and cash paid for junk trucks by us.
Earn Cash For Old Trucks Up To $29,999 At Wreckery Instantly
If you are looking to earn quick money from your unwanted truck, Wreckery is your answer. We are known to pay up to $29,999 on the spot for the trucks we buy. Wreckery is not rigid when it comes to cash for trucks. We buy all model and make of trucks available in Australia. So, sell the truck for cash Brisbane and earn cash for scrap trucks Brisbane, cash for old trucks Brisbane, or cash for junk trucks Brisbane.
Paying Top Cash For Wrecking Unwanted Trucks
If you are ever looking for a reason to get rid of your unwanted truck, remember Wreckery, the wrecker who pays cash for trucks. Having an old or wrecked truck in your yard or garage not only occupies a valuable space but also causes concern regarding the hazard to the environment due to leakage of liquid from the vehicle. Find wreckers like us who pay for old trucks and get rid of it through professionals.
Get A Free Evaluation On Any Kind Of Truck
What makes us different from our contemporaries is the fact that we undertake a free evaluation of your truck. When you decide to sell the truck for scrap, give us a call. Share the vehicle information, and we will undertake the evaluation of your truck and give you a quote on your truck's value. We evaluate for free and offer you a no-obligation quote.
Buying Every Truck For Wrecking In Brisbane
Cash for truck removals Brisbane is one of the services we provide to our customer. We aim of Buying Every Truck for Wrecking in Brisbane since we have full faith in our ability to dispose of old trucks in an environmental-friendly way.
Whatever may be the type, condition or the age of your truck, call us to buy cash 4 trucks Brisbane. Paying cash for a truck as per the agreed terms without any hidden costs is what we strive for. So, chose Wreckery, who pays the most for scrap trucks to get rid of your unwanted truck.
We Buy All Makes And Model Trucks For Cash
We buy all makes and model trucks for cash, be it American, European or Japanese make. Auto Wrecker Brisbane also buy all models under each make without any prejudice. The condition of the vehicle is also immaterial to us. As we believe in reuse, resell and recycle there are no trucks that will not fit with any of the dispose of the method we follow. Contact us without hesitation and ask us to pay for scrap trucks. We will gladly tow away your truck and will pay for junk trucks.
Accredited & Licensed Truck Buyers & Dealers
Cash for trucks is easy to start a business and therefore you will find a plethora of truck buyers and dealers. However many companies skip the essential part of getting necessary authorisation and permissions in order to incur less cost on business set up. Such companies are unreliable. We at Wreckery take law and safety very seriously and therefore have ensured we are properly Accredited & Licensed Truck Buyers & Dealers. This allows us to deal in unregistered cars as well as increasing our scope of work. So whether you have a registered or an unregistered car, don't worry. Call Wreckery – the junk yards that pay cash for cars.
Truck Dismantling And Environment-friendly Truck Recycling
Disposing of any vehicle in an environmental-friendly way has been our endeavour since the beginning.
After we pay cash for scrap Brisbane and bring the vehicle to our junkyard, we prepare it for dismantling. We first remove all the liquids such as petrol, coolant, gas and any other liquid component present in the truck. This ensures safety when we dismantle the vehicle.
After the removal of liquid, our team dismantles the vehicle to remove the parts that are suitable for reuse. We repair and refurbish these parts and add to our inventory of used parts for trucks.
The remaining junk from the dismantled car and the wrecked trucks that are beyond salvage are crushed with our crusher for recycling.
Thus, we ensure that whatever be the condition of the car, we dispose of them sin the way that is least harmful for the environment. We encourage people to buy a used car and/or used auto parts from us instead of opting for new ones. We assure you of the quality at the lowest market price.
Same Day Truck Removal Absolutely Free Of Cost
Time is money in today's world and we pride ourselves in being the fastest cash 4 trucks service provider in the area. We offer same day truck removal that too absolutely free of cost! Sell junk truck today to Wreckery and we assure you of same day free towing and instant cash payment. Don't settle for any, junk yards that pay for trucks, opt for the best and be surprised at what we pay cash for your truck.