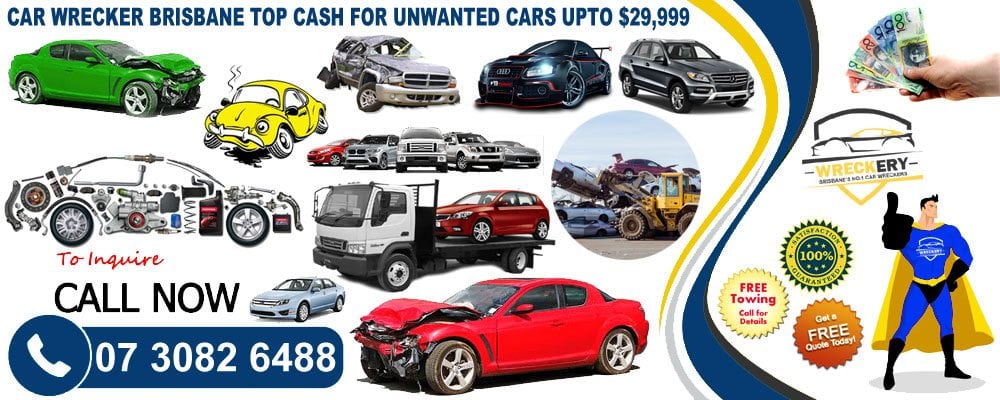 Car Wreckers Brisbane
Don't know what to do with an old unwanted car? Contact Wreckery – the best car wreckers Brisbane! Sell your unwanted vehicle for top dollar. Also, we buy all sorts of vehicle irrespective of the make, the model and year of manufacturing. Get rid of your junk car without any hassle. We buy vehicles that are junk, scrap, damaged or even wrecked. All you need to do is call us today and get your car towed away for free!

How To Sell Your Car For Wrecking
Sometimes selling a car to wreckers may seem daunting. At wreckery, we make it easy for you to sell your car in no time. Sell your scrap car for top cash on the spot. To get your junk car removed follow the below-mentioned steps:
Get QUOTE – Give us the vehicle information and get a free quote on your vehicle.
Accept OFFER – If you accept the offer that we make, we decide on the date to tow away your vehicle.
FREE Towing – On the decided day, we tow your vehicle for free without any hassle.
Get CASH – We make cash payment on the spot. So get instant cash on the very same day!
How Much Cash For Wrecking Cars in Brisbane
We find out the value as per its make, the model and the condition of the cars in Brisbane. Besides our free services, we also make sure that you get competitive prices for your junk vehicle. After comparing all the factors, we quote you a price. Moreover, you can sell any and every type of car to us. You can earn up to $12,999 from damaged unwanted cars and around $29,999 for unwanted trucks.
Auto Wrecking Process
Car Wreckers  Brisbane buy your scrap cars to further resell or recycle them. The auto wrecking process involves reusing or recycling the damaged parts and we salvage the auto parts beyond repair. First of all a wrecking yard, junkyard or scrapyard is the location of a business in dismantling. Where decommissioned or wrecked vehicles are bought. So, their usable parts use in running vehicles. Instead of wasting the useful resource, we put them into their right uses.
Wreckery Car Wreckers Brisbane a brand name that most Aussies are familiar with.
While the unusable metal parts, known as scrap metal parts, are finally sold to metal-recycling companies. Other terms include wreck yard, salvage yard, breakers yard, wrecker's yard, scrapheap, and dismantlers. Furthermore, In Australia, they are also referred to as 'Wreckers', 'Auto Wreckers', and 'Car Breakers'.
Above all, Auto wreckers usually conduct the wrecking process in their salvage or wreckers yard. The auto wrecking process comprises of three steps.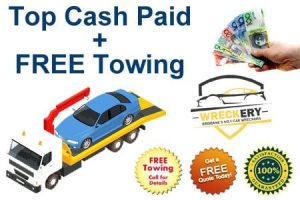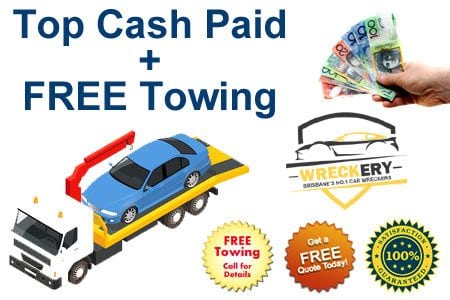 The first step entails removing all the liquid such as petrol, coolant, gas, and parts such as batteries and engine. After removing these dangerous parts, the vehicle is ready for dismantling.
The second step includes dismantling of the vehicle. The re-usable parts are further sold or recycled.
Finally, The last step where they press the unusable parts of the vehicle for recycling the metal.
Accordingly, This process increases environmental conservation by eliminating the hazardous liquid and metal waste from the unwanted cars.
Therefore, whenever you get stuck with a damaged vehicle, sell cars to wrecker Brisbane and earn good cash besides aiding in conservation of nature.
Getting Cash for Unwanted Cars up to $12,999
Getting top dollar for a car that is not even operational has never been so easy. We buy any type of vehicle in any condition and offer highest wrecking prices up to $12,999. Hence, we also offer free car removal and paperwork necessary to complete the deal. When you sell a wrecked vehicle to the professional auto wreckers Brisbane, in addition to getting free services you also get paid heavy and instant cash.
Top Auto Dismantlers in Brisbane Region
You may wonder what makes us the Top Auto Dismantlers in Brisbane Region. For this reason, below is the list entailing the unique features that make us the best choice for you:
So don't hold onto wrecked cars, call wreckery Auto Dismantlers because we provide stress-free service.
Most Noteworthy Car Wreckers & Auto Dismantlers In Brisbane
Wreckery has changed the behavior and nature of wrecking industry. With professional male and female staff. We also make auto parts industry as lively as possible. Providing competitive price is a small picture of Wreckery. All our telephone staff is highly trained even the training is provided with monthly bases. They are also able to understand every nut and bolt of a Vehicle.
What Brands do we wreck?
Quality New/Used Car Parts at Lowest Ever Prices in Brisbane.
Tired of regular car repairs? Since we buy cars of all brands and models, we have the right solution for you! Buy second hand and good quality auto parts from us. We offer you used auto parts for your vehicle in the best ever prices! Instead of shelling out money on new auto parts, call us. We also offer you good quality auto parts at low
Warranties on Used Auto Parts
Many well-known motor wreckers Brisbane will also offer warranties on the used auto parts. Do not randomly look for nearest Car wreckers Brisbane because we have great deals for you. In fact, call us today for great offers and warranties on used parts. Moreover, we offer certainly 90 days warranty on the parts.
100% Free Vehicle Collection of unwanted cars, trucks, and vans
At Wreckery, we also offer a Free Vehicle Collection of unwanted cars, trucks, and vans. So, we tow your vehicle straight from your garage. Instead of asking for heavy towing charges we provide free services. So, call us and earn cash on the spot for wrecked vehicles without incurring any cost.
Our Contact information
Useful Links:
To know more about Wrecking yard on Wiki.