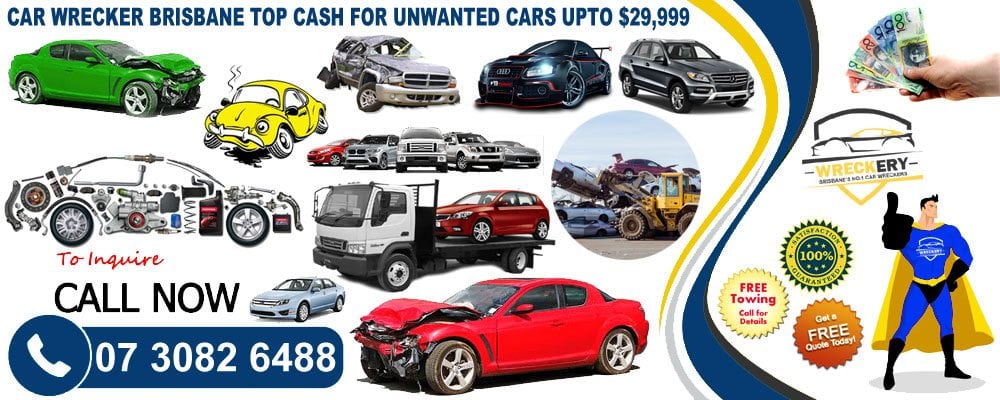 Car Wreckers Brisbane
Don't know what to do with an old unwanted car? Contact the best car wreckers Brisbane – Wreckery and sell your unwanted vehicle for top cash. We buy all sorts of vehicle irrespective of the make, the model and year of manufacturing. Don't let the condition of your car stop you from getting rid of the junk. We buy vehicles that are junk, scrap, damaged or even wrecked. Give us a call today.

How To Sell Your Car For Wrecking
Sometimes selling a car to wreckers may seem daunting. However, at Wreckery we have made the process of selling the car very easy. In order to car removed follow the below-mentioned steps, and you will earn money and get rid of car in a matter of days or sometimes also on the same day.
Get QUOTE – Give us the car information to get free quote on your vehicle.
Accept OFFER – If you accept the offer that we make, we decide on the date to tow away your car.
FREE Towing – On the decided day, we tow away your car for free
Get CASH – We make instant cash payment. So you earn money on the same day we tow away your car.
How Much Cash For Wrecking Cars
We ascertain the value of your car as per its make, the model and the condition of the car. Besides the value of the car, we also compare the cost of metal and other reusable parts in your area. After comparing all the factors, we quote you a price. You can earn up to $12,999 from a damaged car to around $29,999 for an unwanted truck.
Car Wrecking Process
Car wreckers  Brisbane are necessary to ensure proper disposal of that unwanted old car without wasting the reusable parts. The car wrecking process involves removing and reusing the working parts of the dead vehicle and disposing the parts that are beyond salvage.
Auto wreckers usually conduct the wrecking process in their salvage or wreckers yard. The car wrecking process comprises of three steps.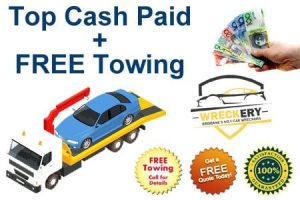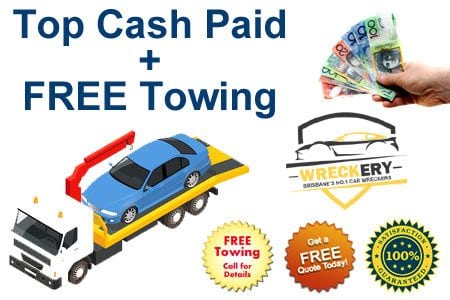 The first step entails removing all the liquid such as petrol, coolant, gas and parts such as batteries and engine. After removing these dangerous parts, the vehicle is ready for dismantling.
The second step is when the trained wreckers dismantle the vehicle to remove the parts that are suitable for reuse/repair and are treated accordingly at a later stage.
The last step involves crusher, where the vehicles and parts beyond salvage are pressed together and recycled.
This process increases environmental conservation by eliminating the hazardous liquid and metal waste from the unwanted car.
So, next time you get stuck with a damaged vehicle, sell car to wreckers Brisbane and earn good cash besides aiding in conservation of nature.

Getting Cash for Unwanted Cars up to $12,999
With Wreckery, the best car wreckers Brisbane, getting Cash for Unwanted Cars up to $12,999 is very easy. We buy any type of vehicle in any condition and offer car wrecking prices up to $12,999. We also offer free car removal and paperwork necessary to complete the deal. When you sell wrecked car to the professional auto wreckers Brisbane like us you not only get rid of the car but save money and time on the entire process.
Top Car Wreckers in Brisbane Region
You may wonder what makes us the Top Car Wreckers in Brisbane Region. Below is the list entailing our unique features that makes us different from our contemporaries
We are professionally managed cash for cars Wreckers Company.
We pay top cash for all types of car irrespective of the model and the condition
Wreckery have the necessary authorisation, licences and equipment to conduct the business legally and safely.
We have customer-centric approach making us favourite amongst our clients.
We provide value-added services to minimise the time and hassle to the car owner.
So don't hold onto wrecked cars, call wreckery car wreckers and become stress-free.
Car Wreckers & Auto Dismantlers In Brisbane
Toyota Wreckers – Altezza, Camry, Corolla, Corona, Hiace, Caldina, Highlander, RAV4, Land Cruiser, Townace.
Mitsubishi Wreckers – Lancer, Diamante, Legnum, RVR, Triton, Pajero, L200, L300, Outlander, L400, Canter.
Nissan Wreckers – Cefiro, Bluebird, Maxima, Primera, Largo, Terrano, Ute, Navara, Datsun, Safari.
Holden Wreckers – Berlina, Astra, Berina, Commodore, Cruze, Rodeo, Volt, Vectra.
Honda Wreckers – Civic, CR-V, City, V6 Accord, Integra, Prelude, Step Wagon, Rafanga.
Ford Wreckers – Econovan, Courier, Explorer, Festiva, Falcon, Fairmont, Mustang, Mondeo, Territory, Transit.
Isuzu Wreckers – Bighorn, Aska, D-Max, ELF, MU, Trooper, Wizard, Utility, Faster.
Mazda Wreckers – 323, 121, 626, B2000-2600, Axela, Bongo, Capella, Demio, Familia, MPV, Lentis, RX3, Proceed, RX-8, Titan, Roadster, Tribute.
Mercedes-Benz Wreckers – Viano, Vito, Vaneo, SLK200 – 350, V230 – 350, SL350-600, ML250 – 500, S280 – 550, E200 – 500, C Class, E55, E63, E Class.
Audi Wreckers – Avant, A1-A8, Q3, Q7, Q5, RS3-6, SQ5, S3-S8, TT.
BMW Wreckers – 316i, 316, 316ti, 318i, 318, 328, 330, 328i, 428i, 520i, 520d, 523, 523i, 525i, 525, 528i, 530, 530i, 530d, 535, 535i, 535d, 540, 645ci, 540i, 650ci, 728i, 650i, 730i, 740i, 735i, 750i, M, 760LI, M1-6, Mini Cooper, Mini, Z3, X1-X6, Z4.
Volvo Wreckers – 740, 440, 850, C30, 960, C70, S60, S40, S70, V30, S80, V40, V60, V50, V70, XC70, XC60, XC90.
Kia Wreckers – Carnival, Carens, Cerato, Magentis, Koup, Mentor, Picanto, Optima, Pregio, Sorento, Rio, Spectra, Soul, Sportage.
Volkswagen Wreckers – Beetle, Amarok, Bora, Caravelle, Caddy, Crafter, Golf, Cross Polo, Jetta, Multivan, LT46 MWB, Passat, Scirocco, Polo, T5, Touareg, Tiguan, Transporter, Touran, Vento.
Hyundai Wreckers – Elantra, Accent, FX, Grandeur, Getz, H1, i20, H100, i30, i45, i40, iLoad, IX 35, iMax, ix35, Lavita, Lantra, Santa Fe, Terracan, Sonata, Tiburon, Trajet, Tuscon, Tucson, Veloster.
Jeep Wreckers – Compass, Cherokee, Patriot, Grand Cherokee, Wrangler.
Suzuki Wreckers – Baleno, Aerio, Carry, Escudo, Cultus, Farm Worker, Grand Vitara, Grand Escudo, Ignis, Kizashi, Jimny, Liana, Solio, SFV650, Splash, Vitara, SX4, Swift, Wagon.
Quality Car Parts at Lowest Ever Prices

With our huge inventory that receives update every day with multiple spare parts, we offer quality car parts at lowest ever price. Don't suffer in silence anymore. Call us and find that elusive part you have been searching all over. If we currently do not have that particular part, we will update you as soon as we receive the part.
Warranties on Used Car Parts
Most professional and well-known motor wreckers Brisbane will offer warranties on the used car parts. So next time you are looking for wreckers that buy cars don't automatically choose the nearest car wreckers but opt for those who offer warranties on used parts. At Wreckery, we offer 90 days warranty on the part.
Free Car Collection of unwanted cars, trucks and vans
At Wreckery, we offer Free Car Collection of unwanted cars, trucks and vans from your yard or garage at a time that is convenient to you. So, call us and earn cash for wrecked cars without incurring any cost.
Our Contact information