Top Cash For Cars in Brisbane, QLD
In the first place Sell your unwanted car for cash with our very profitable and easy Cash For Cars Brisbane Service. We also pay top dollar cash on the spot including 100% Free Towing throughout Brisbane, Queensland.
We Buy Every Vehicle of Any Make & Model pay in Cash
Cash For Cars Brisbane buy every vehicle of any make and model and pay Cash For Cars. Get sooner or later up to $13,999 for your unwanted, junk or old cars, utes, 4x4s and trucks.
Whether you own an American, European or a Japanese Makes because we will also buy it from you so that you can sell my car for cash in Brisbane in no time.
We buy all models of vehicles as well as running or not running on the Australian road.
Some of the frequent car models where top cash paid for cars are:
Wreckery is probably the best cash for cars company near you. We provide car wrecking services free of cost. Also, our customer friendly services offer you the free towing facility and the best prices. Furthermore, we buy all models of Mercedes, BMW, Audi, Porsche, Volkswagen, Opel, Fiat and Alfa Romeo brand of European cars.
Qld Brisbane cash for car services offer you probably the best prices for the junk sitting in your garage. Yes, we're just a call away. So Call us and quote a price and as a result, we pick your vehicle right from your doorstep. Because we buy all make and models of Ford, Chevrolet, Chrysler, Dodge, Jeep, Tesla, Holden American cars even more.
Our Cash for car services in Brisbane is probably the best services near you. Selling your junk has never been more comfortable! Because We are just a call away also, you can complete the web quotation, and as a result, we reach at your doorstep the very same day. Likewise, we buy all models of Toyota, Suzuki, Nissan, Mitsubishi, Mazda, Honda, Renault, Isuzu, Proton, Subaru, Peugeot, Lexus, Chery, Citroen, Daewoo, Great Wall, Infiniti, and Daihatsu brand.
Wreckery offers you apparently the best prices for the scraps sitting in your parking. Yes, we're just a call away. So Call us and obtain free money quote and as a result, we tow your vehicle right from your doorstep at free of cost. Because we buy all make and models of SsangYong, Daewoo, Kia, Hyundai Korean cars even more.
Also, we are not averse to buying a wrecked car or a damaged car. Whatever is the condition of your unwanted vehicle, So we not only pay good cash for junk cars but also provide Free Towing in Brisbane.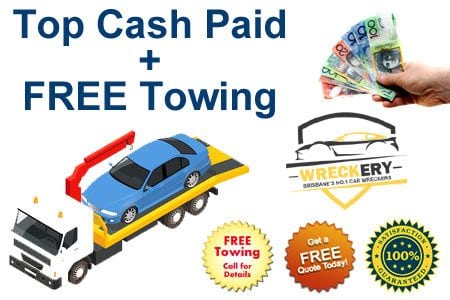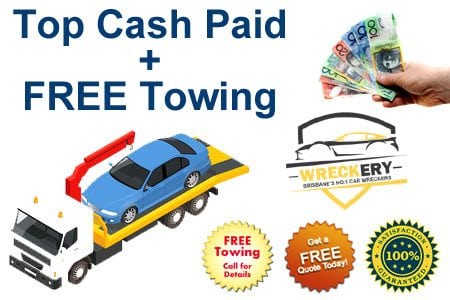 Cash for Junk Car Brisbane
Wreckery operates Cash successfully for Junk Cars Business In Brisbane for many years. We are experts in buying the old and damaged car for cash and also disposing of them in an environment-friendly manner. Additionally, No vehicle is too old or too smashed or too dead for us.
We buy Cars for cash Brisbane irrespective of its condition.
We have so many instances where cash paid for old cars are the highest amongst our peer group. Therefore, don't hold onto the unwanted vehicle. In other words, contact us and earn cash paid for scrap cars.
Process of Selling Car with Our Most Noteworthy Cash for Cars Brisbane Company and Finally Get Cash for your Car
With our experience and market knowledge, we have come up with a process that completes the Selling Car with Our Company Cash for Cars Brisbane and as a result gets Cash for your Car transaction in a matter of days, not minutes.
Together with We do not have a lengthy or complicated process as we understand the importance of time.
In today's world where every minute is equally important, for this reason, we ensure you spend the least possible time on our process and yet earn top cash paid for junk cars.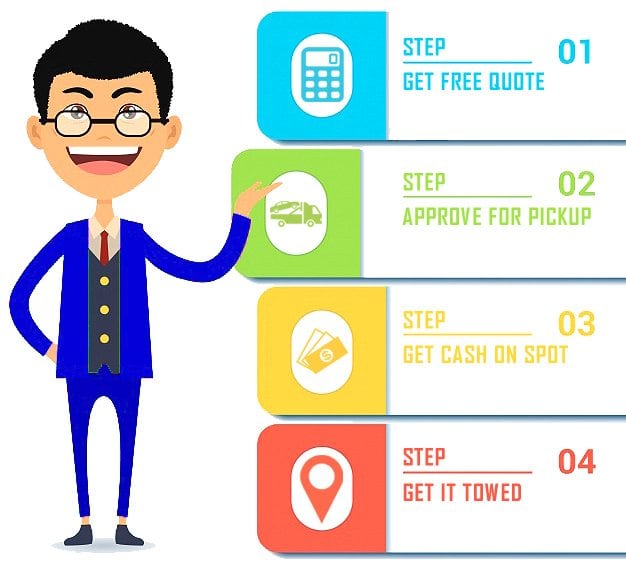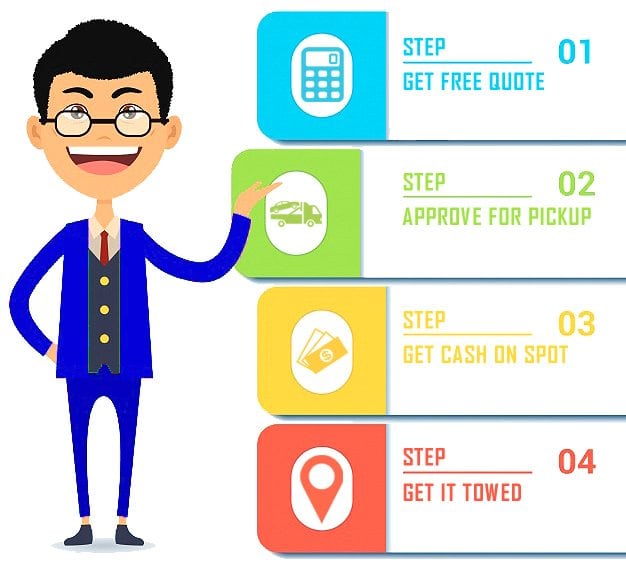 How It Works – 4 Easy Steps!
Get QUOTE – Share your vehicle details and receive an instant quote on your vehicle.
Accept OFFER – After the physical inspection, we make the offer. If you agree with the value of the car, accept the offer.
FREE Towing – Once you accept the offer, we will tow away your vehicle according to you.
Get Cash – Get instant cash on the day of free towing.
Cash For Car Removals in Brisbane
Car removal is an essential factor in getting rid of an unwanted car. With this in mind, Many companies will charge you for car removals, and therefore the net Cash Money For Car you receive is not eventually what you earn as you end up spending it on car removals.
Brisbane Professional Companies like Wreckery,
You don't have to worry about such incidental expense. We take care of any extra fee and pay you the amount that you agreed to. So always chose junkyards that pay for cars without any hidden costs. Finally get your top dollar cash on Bowen Hills, Nathan, Mount Gravatt, Coopers Plains, Archerfield or in entire Brisbane without delay.
WHY CHOOSE Wreckery.com.au
There are various reasons why you should choose Wreckery.com.au. Below, however, are mentioned a few key features that will help you choose us as the most suitable cash for old cars Brisbane service provider.
The first thing to remember is a well-balanced team with experience and expertise to ensure adequate cash for car dealings.
Known as wrecking yard who pays the most for scrap cars.
Environment-friendly methods are using for disposing of the unwanted car.
Value-added services such as free car towing, on the spot payment, free paperwork and free instant quote on the vehicle.
Quality of service is unmatched.
Owner of necessary wrecking equipment that is operated by trained professional assuring safety compliance.
Obtain minimum red-tape and maximum opportunity to earn cash paid for cars.
Reasons for Selling Your Old Car For Cash
There is various reason for you to sell your old car for cash.
Even more most common ones are listed below:
You need cash for an emergency.
Your car is wrecked/ damaged/spoiled and is beyond repair.
You no longer need the car.
Your car frequently breaks down.
Your repairing cost is increasing, and the exceeds the worth of your car.
You want to get rid of the old car to buy a new one.
Above all whatever your reasons, we are willing to pay cash money for old cars, junk cars, dead cars and the cars in between. Call us now.
Cash For Cars FAQs
Q. Things Needed When Buying Your Car

A. – We will require all details and documents of the car for transfer of ownership.

Q. Things we don't need when buying the old car

A. – We do not need anything except car documents for the transfer of ownership.

Q. Things we need when buying your vehicle

A. – We will require all details and documents of the car for transfer of ownership.

Q. Things to Remember When Selling Car

A. – Make sure you have a title and provide all the information about the vehicle.

Q. Are There Any Hidden Charges?

A. – There are no charges at all.

Q. What kind of cars do you buy?

A. – We buy all makes and models of cars.

Q. What if I can't find the title?

A. – We can't buy cars without a title. We'll suggest you get a new title for your vehicle.

Q. Do I have to drive to your location?

A. – No. We reach at your doorstep on the very same day.

Q. What if my registration is out of date or if I owe any fees?

A. – Cars that have any amount pending will not be accepted.

Q. What if I still owe money on my car?

A. – We won't accept your car if you still owe money on it.

Q. What do you need from me?

A. – We will need all the car documents and details for the transfer of ownership.

Q. Do you release my liability?

A. – No. We do not accept cars that hold any liability.

Q. I Want To Sell My Car, But I Need To Use It For The Next Couple Of Weeks. Can I Get A Valuation Now And Sell The Car Later?

A. – We come and tow your car whenever it is suitable for you.

Q. Will My Personal-Details Be Kept Private?

A. – Yes. All your details will keep private.

Q. Can You Buy Any Car?

A. – We buy any and every car irrespective of their make or model.

Q. Will A Valuation Cost Me Money? Is There Any Commitment Required?

A. – No. We offer free no obligation valuation of your car. So make sure all your Car details are correct.

Q. I Have Finance Owing On My Vehicle – Can I Still Sell It?

A. – No. We don't accept any vehicle that holds a liability.

Q. Where In Australia Do You Buy Cars?

A. – We buy cars anywhere in Australia and reach your doorstep the very same day.

Q. Once I Sell My Car To you, How Long Does It Take To Receive Payment?

A. – We pay in cash on the spot.

Q. How Does The Best Price Guarantee Work?

A. – We ensure you the most competitive prices in the market.

Q. How long does it take to get my car picked?

A. – After the web quotation or free quotation over a phone call, we reach at your doorstep in an hour or on the same day.

Q. Do I need my registration?

A. – You do not need to maintain any papers. Our staff will do all the paperwork and for free of cost.

Q. Do I need a title?

A. – We do need a title to proceed with the formalities. Because if you do not have a claim, you can get a duplicate one from local authorities.

Q. What kind of cars do you buy?

A. – We buy all and any cars. We accept all models irrespective of a vehicle's condition.

Q. Will you charge me money for anything?

A. – No. Our towing and paperwork services are free of cost.

Q. Can you tow my motorcycle or trailer?

A. – Yes. We tow all kind of cars and vehicles no matter what condition they have.

Q. Where can you pick up cars?

A. – We pick up your junk straight from your garage and our towing services are free.

Q. Do I have to be there when the tower comes?

A. – It'll be more convenient for us if you are present during the inspection or towing of the vehicle to avoid any inconvenience.

Q. When do I get paid?

A. – We pay you in cash on the spot or the very same day.

Q. Someone abandoned a car on my property can you pick it up?

A. – No. We can only buy cars that officially belong to the owner.

Q. What do you do with the junk after you take it away?

A. – We resell, recycle or remanufacture the junk to make it's the best use.

Q. What about a receipt?

A. – We will provide you with a proper receipt after buying your vehicle.

Q. Do I need to do anything for transfer of ownership?

A. – You only need to provide the required documents, and likewise, we take care of the rest.

Q. My car is a rusty pile of junk- can you take it?

A. – We accept cars and vehicles in any condition.

Q. How do I know what the car will be worth?

A. – There will be a free price quotation, and it's up to you to accept our offer after inspection.

Q. What if I have multiple cars to removed?

A. – We tow all and any cars from your garage for free.

Q. I am ready. What do I do next?

A. – That's good. Call us to book your appointment. Alternatively, you can also drop us an email at

[email protected]

or visit our website: https://www.wreckery.com.au to fill up the online form. Whatever you choose, you will get a prompt reply from us. Know more info about cash for cars service.