Cash For Cars Brisbane, QLD
Sell your unwanted car for cash with our very profitable and easy Cash For Cars.
We Buy Every Vehicle of Any Make & Model pay in Cash
We buy every vehicle of any make and model and pay cash for cars.
Whether you own an American, European or a Japanese make, we will buy it from you so that you can sell car for cash Brisbane.
We buy all models of vehicles running on the Australian road. Some of the frequent car models where top cash paid for cars.
American – All models of Ford, Chevrolet, Chrysler, Dodge, Jeep, Tesla, Holden
Japanese – All models of Suzuki, Toyota, Nissan, Mazda, Mitsubishi, Honda, Subaru, Isuzu, Lexus, and Daihatsu brand
European – All models of Mercedes, Audi, BMW, Porsche, Opel, Volkswagen, Fiat and Alfa Romeo brand
Also, we are not averse to buying a wrecked car or a damaged car. Whatever is the condition of your car, we pay good cash for junk cars Brisbane.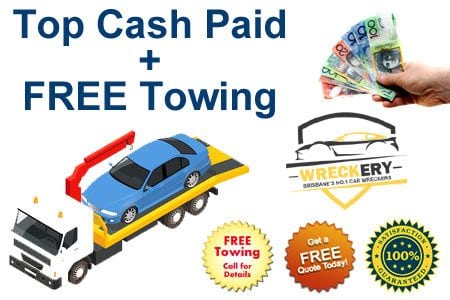 Cash for Car Brisbane
Wreckery has been in the business of Cash for Car Brisbane for many years. We are experts in buying old and damaged car for cash and disposing them in an environment-friendly manner. No vehicle is too old or too smashed or too dead for us. We buy car for cash Brisbane irrespective of it condition. We have so many instances where cash paid for old cars are the highest amongst our peer group. Therefore, don't hold onto unwanted vehicle. Contact us and earn cash paid for scrap cars.
Process of Selling Car with Our Company Cash for Cars and Get Cash for your Car
With our experience and market knowledge, we have come up with a process that completes the Selling Car with Our Company Cash for Cars and Get Cash for your Car transaction in matter of days of not minutes. We do not have a lengthy or complicated process as we understand the importance of time. In today's world where every minute is important, we ensure you spend least possible time on our process and yet earn top cash paid for junk cars.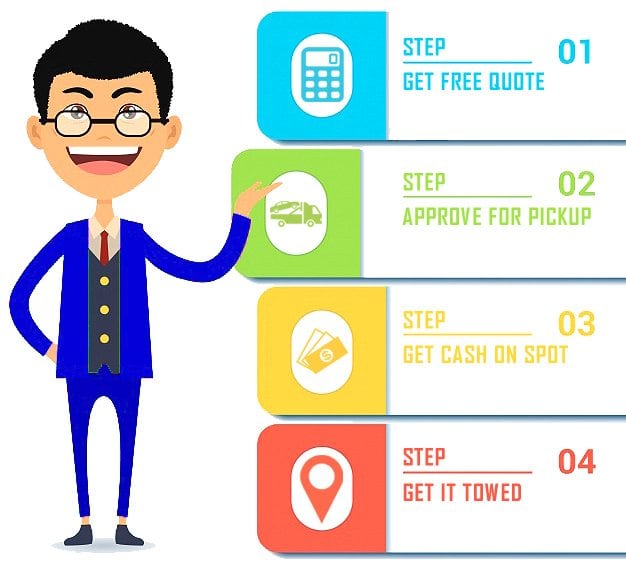 How It Works – 4 EASY Steps!
Get QUOTE – Share your vehicle details and receive instant quote on your vehicle.
Accept OFFER – After the physical inspection, we make the offer. If you agree with the value of the car, accept the offer.
FREE Towing – Once you accept the offer, we tow away your car at your convenience.
Get CASH – Get instant cash on the day of free towing.
Cash For Car Removals in Brisbane
A car removal is an important factor in getting rid of an unwanted car. Many companies will charge you for car removals, and therefore the net Cash For Car you receive is not what you earn as you end up spending it on car removals. With Professional companies like Wreckery, you don't have to worry about such incidental expense. We take care of any extra expense and pay you the amount that you agreed for. So always chose junk yards that pay for cars without any hidden costs.
WHY CHOOSE Wreckery.com.au
There are various reasons why you should choose Wreckery.com.au. Below, however are mentioned few key features that will help you choose us as the most suitable cash for old cars Brisbane service provider.
Well balanced team with experience and expertise to ensure efficient cash for car dealings
Known as car wreckers who pays the most for scrap cars
Environment-friendly methods of disposing of unwanted car
Value-added services such as free car towing, on the spot payment, free paper work and free instant quote on vehicle
Quality of service is unmatched
Owner of necessary equipment that is operated by trained professional assuring safety compliance
Minimum red-tape and maximum opportunity to earn cash paid for cars
Reasons for Selling Your Old Car For Cash
There are various reason for you to sell your old car for cash. Most common ones are listed below
You need cash for emergency
Your car is wrecked / damaged / spoiled and is beyond repair
You no longer need the car
Your car frequently breaks down
Your repairing cost is increasing and the exceeds the worth of your car
You want to get rid of the old car to buy a new one
Whatever your reasons, we are willing to pay for old cars, junk cars, dead cars and the cars in between. Call us now.
Cash For Cars FAQs
Q. Things Needed When Buying Your Car

A. – We need the Vehicles registration certificate and your id proof.

Q. Things we need when buying your vehicle

A. – We need the Vehicles registration certificate and your id proof.

Q. Things we don't need when buying old car

A. – We don't need roadworthy certificate or registration since we have the necessary license to buy the car as it is.

Q. Are There Any Hidden Charges?

A. – with Wreckery there are no hidden charges. You get what you agree to

Q. Things to Remember When Selling Car

A. – When selling a car remember to have its registration and clear title ready. Also remove all your personal belonging from the vehicle.

Q: What kind of cars do you buy?

A. – We buy all and any make and model of the car irrespective of its condition.

Q: Do I have to drive to your location?

A. – No. We offer free car removal services to all our clients. However, if it is easier for you to drive to our location, you may choose to do so.

Q. What if I can't find the title?

A. – We will need a title of your vehicle to proceed. If you are unable to find the title, we suggest you get duplicate title issued from the local authority.

Q. What if my registration is out of date or if I owe any fees?

A. – We will take care of the out of date registration. However, if you owe any fees please make the necessary payment for smooth selling of the car.

Q. What do you need from me?

A. – All we need from you information on the make, the model and the age of the vehicle along with document of vehicle ownership and ID proof.

Q. What if I still owe money on my car?

A. – Please clear any money due on your car. As of now, we do not purchase the vehicle that owes money.

Q. Do you release my liability?

A. – No. At the moment we do not take the responsibility of releasing your car liability.

Q. How do you figure how much you pay me?

A. – We have an inbuilt system that shows us the value of your car depending on the current metal rate, rate of usable parts and the condition of the car.

Q. How long have you been in business?

A. – We have been in the business for more than a decade.

Q. How do you pay?

A. – Generally, we pay in cash. However, if you need alternate arrangement we can discuss and decide.

Q. I am ready. What do I do next?

A. – That's good. Call us to book your appointment. Alternatively, you can also drop us an email at quote@wreckery.com.au or visit our website: https://www.wreckery.com.au to fill up the online form. Whatever you choose, you will get prompt reply from us.