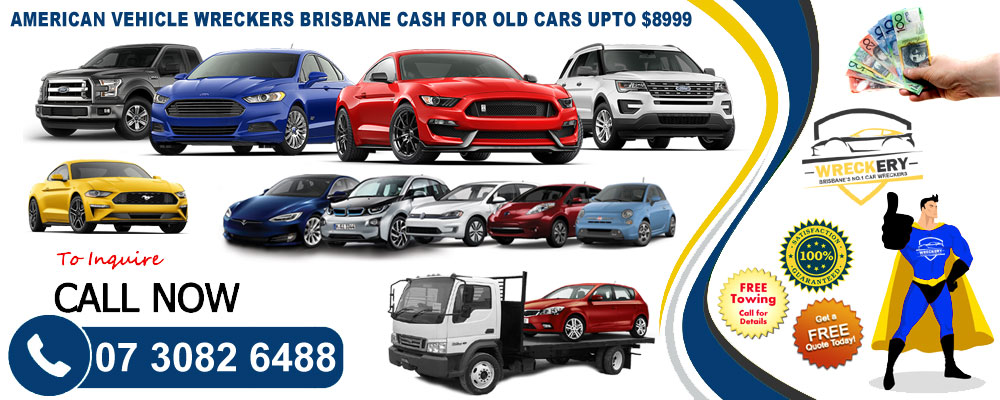 American regions rise to hail some of the best auto products in the world. The level of technology has enhanced their product in terms of reliability and features. Every new model comes up with another new stream of ultimate features. In Brisbane, we work to buy these precious cars from you. Yes, we are endowed with some specification where work is at stake. Some of the renowned cars in America are Ford, Jeep, Chevrolet, Lincoln, Dodge, etc. These precious cars have innovation and recreated models which the owner wishes to buy. And yes, they should but they can make their old vehicle sold to us in return of admirable cash.
So, if you are having any such old, damaged, and fertile car which you want it to dispose of, then contact us at Brisbane. We are no away from you!
The wrecking of Chevrolet in Brisbane
Chevrolet is a famous brand with a large fan following. The crew members at Wreckery are highly filtered to provide dismantling of Chevrolet. In return of your old/damaged Chevrolet, we can offer you a good amount of cash. This is where we have developed ourselves. The latest models that can also be sold to us are Chevrolet Caprice, Camaro, Impala, Enjoy, Express, Montana, Cruze, and Colorado. We take easy and timely lookups to your contact and get to you as soon as possible.
150
210
400
500
1700
2500
3800
4100
454 SS
A-10
A-20
Advance Design
Agile
Ajax
AK Series
Alero
Apache
Astro
Avalanche
Baby Grand/H-4
Beauville
Bel Air
Beretta
Biscayne
Bison
BJN
Blazer
Bolt
Brookwood
Bruin
B-Series
C/K
C-10
C-20
Calibra
Camaro
Camby
Cameo
Caprice
Captiva
Captiva Sport
Cassia
Cavalier
Cebra
Celebrity
Celta
Celtic
Chevair
Chevelle
Chevelle Laguna
Chevette
Chevrolet SS
Chevy
Chevy II
Chevy Malibu
Chevy Van
Citation
City Express
CMP
CMV
Cobalt
Cobalt SS
Colorado
Commodore
Confederate Series BA
Constantia
Corsa
Corsa Classic
Corsa Plus
Corsica
Corvair
Corvan
Corvette
Cruze
D-10
D-20
Delray
Deluxe
D-Max
Eagle
El Camino
Epica
Equinox
Evanda
Express
FA Series
FB Series
Fleetline
Fleetmaster
Forester
Frontera
G506
Gemini
GMT400
Greenbrier
G-series
HHR
Impala
Independence Series AE
International Series AC
Joy
K5 Blazer
Kadett
Kalos
Kingswood
Kingswood Estate
Kodiak
Kommando
Lakewood
Lanos
Lee
Light Six
Lova
Lova RV
Lumina
Lumina APV
LUV
Malibu
Marajó
Master
Matiz
Mayano
Mercury
Meriva
Metro
Monte Carlo
Monza
N200
N300
National Series AB
Niva
Nomad
Nova
Nubira
Omega
Onix
Opala
Optra Wagon
Orlando
Parkwood
Prisma Mk.II
Prizm
Rezzo
Rodeo
S-10
S-10 Blazer
S-10 Blazer
S-10 EV
Sail
Senator
Series 490
Series AA Capitol
Series AB National
Series AC International
Series C Classic Six
Series D
Series F
Series FA
Series FB
Series H
Series M
Series M Copper-Cooled
Silverado
Silverado HD
Sonic
Spark
Special
Spectrum
Spin
Sprint
SS
SSR
Stamp
Standard
Styleline
Stylemaster
Suburban
Superior
Superior Series B
Superior Series F
Superior Series K
Superior Series V
Swift
Tacuma
Tahoe
Task Force
Task Force Series
Tavera
Tigra
Titan
Tosca
Townsman
Tracker
Trafic
Trail Blazer
Trans Sport
Traverse
Trax
Universal Series AD
Uplander
Van
Vectra
Vega
Venture
Veraneio
Viking
Vitara
Viva
Vivant
Volt
Yeoman
Zafira
Premier Wreckers of Ford
Ford is one of the durable auto parts in the world. With an immense year of efforts, Ford has a number of fascinating attributes. Our team of wreckers considers perfection in every work they do. Top cash for your different models of Ford is available at our premises. It is not only the low models that we looking for, but Ford Wreckers are also fond of high models like Ford Fairlane, Festive, Orion, Fiesta, and Sierra. Some more models are accepted for top cash like Ford Cortina, Mondeo, Focus, Falcon, Escort, and Probe. So, don't wait, sell your car today at the best prices.
COURIER
FAIRMONT
FALCON
FIESTA
FOCUS
LASER
RANGER
TERRITORY
TRANSIT
ANGLIA
BRONCO
CAPRI
CONSUL
CORSAIR
CORTINA
COUGAR
CUSTOM
ECONOVAN
ECOSPORT
ESCAPE
ESCORT
EVEREST
EXPLORER
F100
F150
F250
F350
F450
FAIRLANE
FESTIVA
GALAXIE
KA
KUGA
LANDAU
MAVERICK
METEOR
MONDEO
MUSTANG
PREFECT
PROBE
RAIDER
SPECTRON
TAURUS
TELSTAR
THUNDERBIRD
Best Jeep Wrecking in Queensland
Jeep is one of the luxurious brands, as known. Jeep generally needs to be upgraded with time and one look for that upgradate. For us, you can get cash in return of your Jeep which may be broken, damaged, old, unregistered, etc. Some handsome cash is always guaranteed for every model of the Jeep. The prime collections of Jeep are Jeep Compass, Renegade, Grand Cherokee, Wrangler, and Patriot. This is not the only list, we happily accept more than it. Jeep Wreckers is one of those companies which provide you handsome cash in return of your vehicle.
CHEROKEE
CJ
COMMANDER
COMPASS
GRAND CHEROKEE
PATRIOT
PICK-UP
RENEGADE
WRANGLER
Recycling Dodge Vehicles
Have you recently bought a Dodge car? And looking for any remorse buyer then don't worry, we are already a buyer. Our specialists have the capability to remove and wreck the vehicles, crossovers, cars, Sedan, Coupe, and van. Dodge Wreckers are engaged in the work of offering cash in return of your car since long and have an experienced team of wreckers now. The Dodge vehicles include Viper, Grand Caravan, Durango, etc. If you're the one looking to sell your Dodge car, then don't wait anymore and contact us.
Supplier of American spare parts in Brisbane
Wreckery owns the American spare parts for all top branded and non-branded vehicles. We work to reuse and recycle the old vehicles and try to make them new. Even, the old parts are furnished as new. So, don't be worried searching for a part, kindly contact us and order your part now. We can avail you all the parts of the American vehicles, in particular.